#089 Jerry Dreams, Bobby John
Jerry Dreams promotes their brand new EP and "Self-Made Media Mogul" Bobby John shows off his social media techniques.
5 years ago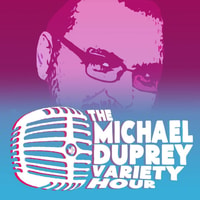 Jerry Dreams' debut EP "California" is here! Kevin and Giancarlo of the band join us to show off some songs from the EP and also to discuss the formation of the band, the process of producing the EP, and to play a game of Boink, Marry, Kill, Daddy! Then, self-made media mogul Bobby John joins us on the show to discuss his technique for developing a social media following.
Credits: Kevin Kline, Giancarlo DiPonio, Anthony Coates
Find MDVH on Facebook: https://www.facebook.com/michaeldupreyvh/ Twitter: https://twitter.com/MichaelDupreyVH
Attributions: "California" by Jerry Dreams
Intro Theme: "Don't Weigh Me Down" by Broadcast 2000
Interlude Song: "Americana Jam" by The Underscore Orkestra
This podcast is powered by Pinecast.