#150 Wedding & Honeymoon Special
Michael & Emily get married, and you come along for the ride!
2 years ago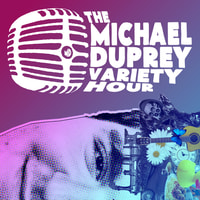 Michael and Emily are getting married! In this special episode, recorded over the course of a week and half, Michael and Emily take you on their journey together. Starting with their thoughts leading up to the wedding before and after the rehearsal, and then they recap their wedding while on their honeymoon, and finally walk you through their honeymoon!
Credits: Emily Kirby-Duprey
Attributions: "Give Me Your Now" by Allye Gaietto "Honeymoon (Forever)" by Hellogoodbye "Sweet Thang" by Teddy Roberts & The Mouths
Find MDVH on Facebook: https://www.facebook.com/michaeldupreyvh/ Twitter: https://twitter.com/MichaelDupreyVH
The Michael Duprey Variety Hour is a member of the Planet Ant Podcast Network: Find Planet Ant Podcasts on Facebook: https://www.facebook.com/PlanetAntPodcasts/ Twitter: https://twitter.com/PlanetAntPods Or at the website: https://planetantpodcasts.com/
Intro Theme: "Don't Weigh Me Down" by Broadcast 2000
This podcast is powered by Pinecast.