#166 AVIVA, Detective Devito
2 years ago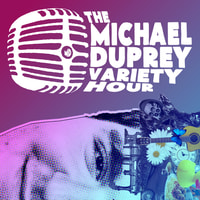 Rock trio AVIVA join us on the show to discuss their debut self-titled album and to play the smash hit game "Is It The Name of a Thoroughbred Racehorse or a Song from the 2005 Billy Idol Album 'Devil's Playground'?" Also, Detective DeVito, who is investigating a grisly murder, has some serious questions for the guests of this episode. Finally, Sebastian Bach's BH1 Rock Cock Docs digs deep into the history of Bruce Springsteen's E. Street Band!
Credits: Frank Albanese, Jason Rho, Paul Jarosz, Adam Bacigal
Attributions: "Cognizant" by AVIVA "Ode to Youth" by AVIVA "Talk to Me" by AVIVA
Find AVIVA on the Web: http://www.aviva.band/
Find MDVH on Facebook: https://www.facebook.com/michaeldupreyvh/ Twitter: https://twitter.com/MichaelDupreyVH
"BH1 Rock Cock Docs: The Glock Spot" Credits: Written by: Ray Duprey Performed by: Ray Duprey, Michael Duprey, Lauren Duprey
The Michael Duprey Variety Hour is a member of the Planet Ant Podcast Network: Find Planet Ant Podcasts on Facebook: https://www.facebook.com/PlanetAntPodcasts/ Twitter: https://twitter.com/PlanetAntPods Or at the website: https://planetantpodcasts.com/
Intro Theme: "Don't Weigh Me Down" by Broadcast 2000
This podcast is powered by Pinecast.