#056 Sherri Tipton, Iain Dundee, Dr. Sadsack
"Fancy Baby" founder Sherri Tipton, Youth Pastor Iain Dundee, and Insult Hotline host Dr. Sadsack join us on this week's episode!
5 years ago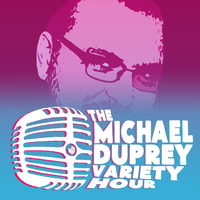 Former child star and founder of "Fancy Baby" Sherri Tipton joins us on the show to discuss how she has been crafting the great stars of Hollywood! Also, youth pastor Iain Dundee discusses finding his faith, and Paul Batista aka "Dr. Sadsack" makes his debut and we test out some insults on him.
Credits: Kate Holmes, Colin Everett, Jason Petterson
Find MDVH on Facebook: https://www.facebook.com/michaeldupreyvh/
Twitter: https://twitter.com/MichaelDupreyVH
Attributions:
"Lakes of Ponchartrain" by Sláinte
Intro Theme:
"Don't Weigh Me Down" by Broadcast 2000
Interlude Song:
"Jangus" by UncleBibby