#088 LIVE at The Planet Ant Podcasts Launch Party with Kennedy Greenrod, Sar the Moonchild, Gil Ellis, Sir Archibald Grout, Lauren Duprey
3 years ago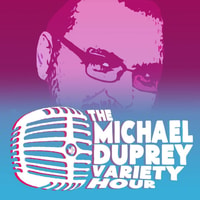 Planet Ant Podcasts is officially here! To celebrate, we went live at Ant Hall! This episode, co-hosted by Michael's sister Lauren, features Michael's arch nemesis Sar the Moonchild,Avid Budweiser drinker Gil Ellis, Victorian Era Soccer Player Sir Archibald Grout, and singer-songwriter Kennedy Greenrod!
Credits: Kennedy Greenrod, Lauren Duprey, Mike McGettigan, Eleanor Fuchs, Tony Augusty
Find MDVH on Facebook: https://www.facebook.com/michaeldupreyvh/ Twitter: https://twitter.com/MichaelDupreyVH
Intro Theme: "Don't Weigh Me Down" by Broadcast 2000
Interlude Song: "Americana Jam" by The Underscore Orkestra
This podcast is powered by Pinecast.