#100 LIVE 100th Episode Celebration at Ant Hall with Fizzbang, Blake the Intern, Helen Sokaris, Giuseppite Cricket, Sam Seraphim, Marlon Brando, and Dinah Jones
We celebrate 100 episodes with friends, old and new, games, and fantastic music!
4 years ago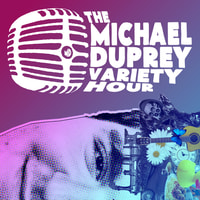 MDVH has finally reached 100 episodes! To celebrate, we went live at Ant Hall in Hamtramck and feature a litany of friends, new and old! Co-hosted by Blake the Intern, we meet with Greek Matchmaker Helen Sokaris, pick the brain of Stream of Consciousness Poet Sam Seraphim, reconnect with Famous Actor Marlon Brando, and enjoy music from the rock band Fizzbang! Also featuring appearances by Giuseppite Cricket and, of course, Dinah Jones!
Credits: Blake the Intern, Kate Holmes, Ray Duprey, Charlie Matt, Nick Boulahanis, Andy Reid, Halina Matt, Michael Padlo, Jon Hiatt, Gerald Leonard, Micky Leonard, Mitch Haba, Lauren Duprey
Find Fizzbang online: Facebook: https://www.facebook.com/fizzbangband/ Bandcamp: https://fizzbang.bandcamp.com/
Find MDVH on Facebook: https://www.facebook.com/michaeldupreyvh/ Twitter: https://twitter.com/MichaelDupreyVH
The Michael Duprey Variety Hour is a member of the Planet Ant Podcast Network: Find Planet Ant Podcasts on Facebook: https://www.facebook.com/PlanetAntPodcasts/ Twitter: https://twitter.com/PlanetAntPods Or at the website: https://planetantpodcasts.com/
Intro Theme: "Don't Weigh Me Down" by Broadcast 2000
This podcast is powered by Pinecast.