#005 Jerry Jangles, Jake the Bear Hugger, Uncle Eddie
Fitness programs, the sexual behaviors of bears, and deceased wives -- these are just some of the topics discussed on this insane episode. Featuring music from Space Age Heartbreak.
5 years ago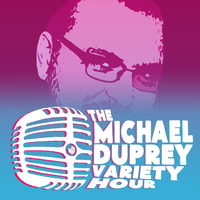 The creator of the Jangle Bangle fitness and lifestyle program Jerry Jangles joins us to discuss the ins and outs of his program as well as the importance of rubber bands, Jake the Bear Hugger walks us through his goals and adventures, and Uncle Eddie from Uncle Eddie's Birdhouse Emporium promotes his television show and discusses his wife's untimely death. We also feature a song from the great Space Age Heartbreak!
Credits: Jason Petterson, Adam Bacigal, Nick Boulahanis
Attributions:
"Gave My Heart A Break" by Space Age Heartbreak
Intro Theme:
"Somewhere In My Mind" by Apache Tomcat