#098.5 LIVE at Planet Ant's 25th Anniversary Celebration with Louie the Cat, Karen Majewski, and The PhANTom
A dead cat, the Mayor of Hamtramck, and a sad loser who lives in an attic walk into a bar. They are all there to celebrate the Ant's 25th Anniversary!
4 years ago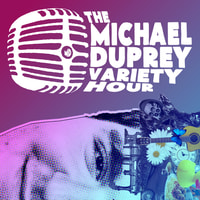 Planet Ant Theatre has been around for 25 Years! In those 25 years they have put on countless scripted and improv shows, expanded to and built a huge brand new theatre and bar, started a Podcast Network, and so much more! In this special episode we celebrated at the 25th Anniversary party by welcoming the ghost of Louie the Cat, former theatre cat of the Planet Ant, as well as Hamtramck Mayor (yes, really) Karen Majewski! Then... we're interrupted by a spooky(?) guest!
Credits: Caitlyn Shea, Karen Majewski, Andy Reid
Find MDVH on Facebook: https://www.facebook.com/michaeldupreyvh/ Twitter: https://twitter.com/MichaelDupreyVH
The Michael Duprey Variety Hour is a member of the Planet Ant Podcast Network: Find Planet Ant Podcasts on Facebook: https://www.facebook.com/PlanetAntPodcasts/ Twitter: https://twitter.com/PlanetAntPods Or at the website: https://planetantpodcasts.com/
Intro Theme: "Don't Weigh Me Down" by Broadcast 2000
This podcast is powered by Pinecast.