#147 Panda House, Carl Young
Yee-haw it's time for some art, some politics, and some PAPER PLANES!
2 years ago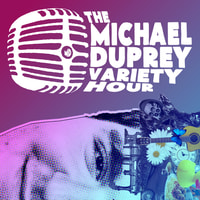 Progressive/indie rock band Panda House joins us on the show this week to discuss their new album "Explorers", how they decided to change direction with their sound, and the fluidity of art! Then, United States Socialist Revolutionary Carl Young hops in to discuss his rhetoric, but something is a bit fishy about him. Also, we showcase this year's annual Paper Plane Rodeo!
Credits: Robert Johnson, James Dunstan, Tom Stineman
Attributions: "Reach In" by Panda House "Stranger Than" by Panda House "Droplet Do" by Panda House
Find Panda House on the Web: Bandcamp: https://pandahousedetroit.bandcamp.com/ Facebook: https://www.facebook.com/PandaHouseDetroit/
Find MDVH on Facebook: https://www.facebook.com/michaeldupreyvh/ Twitter: https://twitter.com/MichaelDupreyVH
"Paper Plane Rodeo" Credits: Written by: Lauren Duprey Performed by: Ray Duprey, Michael Duprey, Lauren Duprey Sound Attributions: "Ambience, Food Court, B.wav" by InspectorJ (www.jshaw.co.uk) of Freesound.org "Eating human.wav" via Freesound.org Country Cue 1 by Audionautix is licensed under a Creative Commons Attribution license (https://creativecommons.org/licenses/by/4.0/) Artist: http://audionautix.com/
The Michael Duprey Variety Hour is a member of the Planet Ant Podcast Network: Find Planet Ant Podcasts on Facebook: https://www.facebook.com/PlanetAntPodcasts/ Twitter: https://twitter.com/PlanetAntPods Or at the website: https://planetantpodcasts.com/
Intro Theme: "Don't Weigh Me Down" by Broadcast 2000
This podcast is powered by Pinecast.