#173 Shawn Handlon, Trisha Oshinsky
2 years ago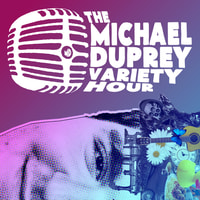 Director of The Detroit Musical, Shawn Handlon, joins us on the show to discuss how the show has changed throughout its several iterations, and to break down his history with improv and Planet Ant! Then, full-time mommy, Trisha Oshinsky stops in to discuss the difficulties of being a stay-at-home mother, and tells us about her favorite commercials! Also, we share a glimpse into a taste testing at Richard's Farms!
Credits: Shawn Handlon, Caitlyn Shea
Find MDVH on Facebook: https://www.facebook.com/michaeldupreyvh/ Twitter: https://twitter.com/MichaelDupreyVH
"Richard's Farm" Credits: Performed by: Lauren Duprey, Ray Duprey, Michael Duprey Audio Attributions: "Bozza, Duettino for Two Bassoons" by Grossman, Ewell, Grainger via FreeMusicArchive.org "Meat Drop.wav" by GreenFireSound via Freesound.org
The Michael Duprey Variety Hour is a member of the Planet Ant Podcast Network: Find Planet Ant Podcasts on Facebook: https://www.facebook.com/PlanetAntPodcasts/ Twitter: https://twitter.com/PlanetAntPods Or at the website: https://planetantpodcasts.com/
Intro Theme: "Don't Weigh Me Down" by Broadcast 2000
This podcast is powered by Pinecast.